How to Run Cmd as an Administrator?
April 6th, 2014 by Rossy Guide
What is cmd.exe?
Command Prompt (executable name cmd.exe) is the Microsoft-supplied command-line interpreter on OS/2, Windows CE and on Windows NT-based operating systems (including Windows 2000, XP, Vista, 7, 8, Server 2003, Server 2008, Server 2008 R2 and Server 2012). It is the analog of COMMAND.COM in MS-DOS and Windows 9x systems (where it is called "MS-DOS Prompt"), or of the Unix shells used on Unix-like systems.
Command Prompt can be accessed via the Command Prompt shortcut located in the Start Menu or on the Apps screen, depending on what version of Windows you have. To use Command Prompt, you must enter a valid command along with any optional parameters. Command Prompt then executes the command as entered and performs whatever task or function it's designed to perform in Windows.
How to run it on Windows Vista and 7?
To run an elevated command prompt under Windows Vista and Windows 7 operating systems (see sample screenshot below):
o Click Start
o In the search box type in command
o Right-click 'Command Prompt' in the search results list
o Click 'Run as administrator' from the popup menu
o If you are not an administrator of the computer a dialog box will be shown prompting for the administrator password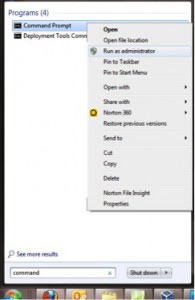 Why do I have to run it?
Command Prompt is used to execute entered commands. It is most commonly used to execute batch files, perform advanced administrative functions, and troubleshoot and solve certain kinds of Windows issues.
Command prompt has many other functions than managing your directories (directories are simply all of your folders on your system), it also launches programs, enters commands to manage different components on your system such as your hard drive maintains (deleting and creating partions, etc.), runs scripts, from the simplest to the most complex, even hooks into other systems if your computer is properly configured for this, and it usually takes a Server to do so. It is very powerful and complex, so be very careful.